Happy Thanksgiving! Today I'm sharing with you a super duper quick and simple project. It has three pieces: a pillow box, a doily, and a piece of ribbon. That's it! No stamping. No adhesive. The ribbon is the only thing you even need to cut. You can certainly dress it up all you want to, but when you need something in a hurry, this is the ticket. 
Here's what I made:
Here's what I did:
Fold in one end of a pillow box.

Fill it with treats or a small gift and fold in the other end.

Wrap a piece of ribbon around the box and tie it in a knot on the front.

Slip a Pearlized Doily over the ends of the ribbon and over the knot, which will hold it in place.

Done!
Here are today's colors:
You can click on each one to see all the products that come in that color!
(The boxes are kraft, but Crumb Cake is pretty close.)
Here's what I used:
Click on these images for more details and to purchase.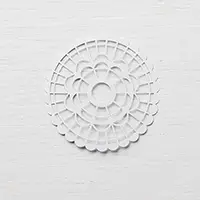 Here's the beautiful Snowflake Showcase!
It's available only in November, or while supplies last, so get yours before it's gone!
This stamp set can be used all year long!
And this stamp set can be used every winter. 
You get 20 dies in this set! 20!!! And they go with both stamp sets, so they can be used all year long.
Look at these adorable embellishments! They're flat so they're great for cards. I even made a pair of earrings!
Click on the images below to see more details and to purchase the Snowflake Showcase items:
The White Velveteen Paper mentioned in the video is sold out and no longer available. 
Here's even more cool stuff you should check out:
Thanks for stopping by today, and Sweet Stamping!